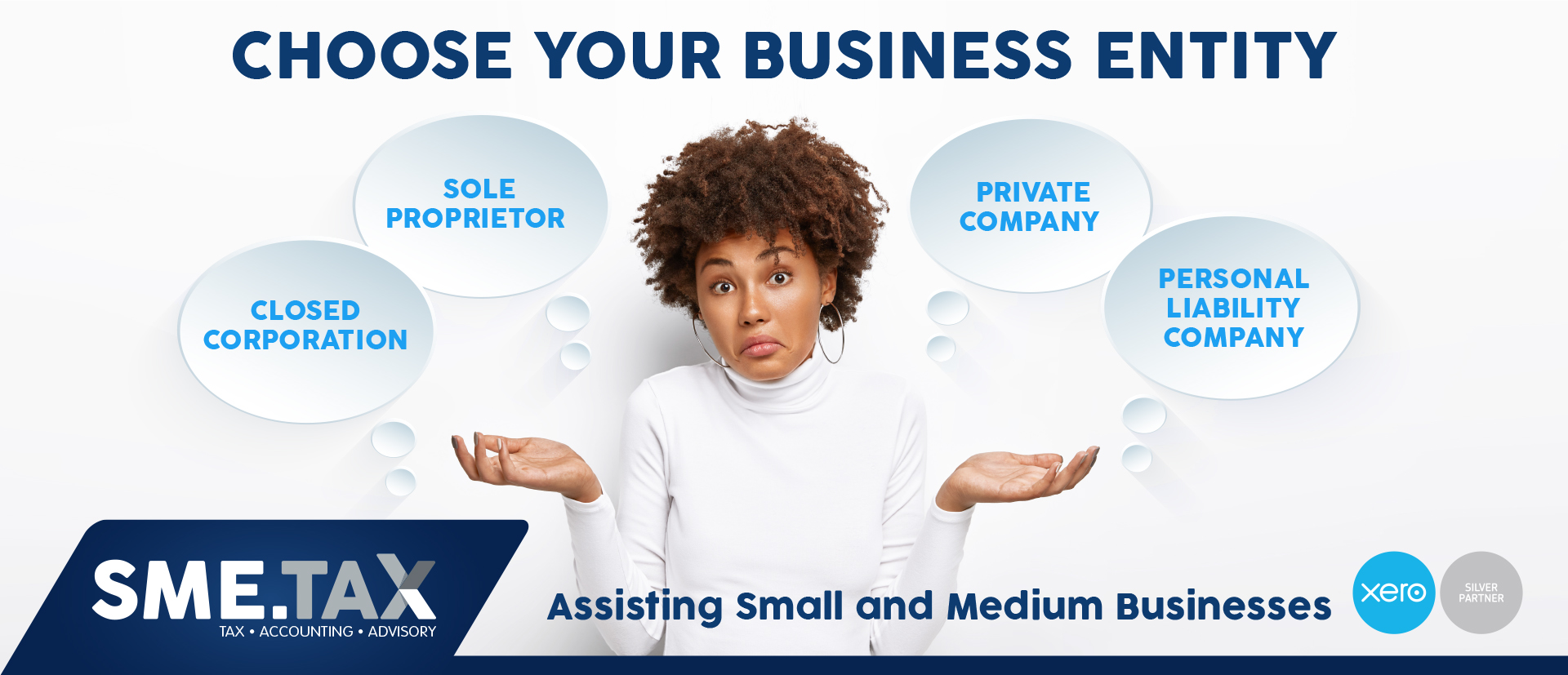 SME.TAX is about assisting small and medium businesses, therefore we felt that the articles we produce for this blog should be based on the business life cycle of a typical entrepreneur. Now you might be thinking, "What is a typical entrepreneur?", well to put your mind at ease there is no such thing, entrepreneurs come in all different shapes of ideas. The one thing we do all have in common though, is the legislative hurdles we need to navigate in order to remain in business legally. We have purposely used the word "legally" here because it is possible to be in business illegally, and by this I don't mean you're in the business of criminal activity. You might be conducting a legal business but going about it in the incorrect manner.
The first thing most entrepreneurs do is formalise the structure under which they plan to conduct their business.
You may or may not be aware, but there are several different types of business entities you can choose from when you wish to get started in business. We however will focus our blog on the most common ones:
Sole Proprieto

r – this is the simplest form of entity as you require no forms to set it up and you can begin any time you choose.
Closed Corporation – while it is no longer possible to register new corporations, any existing corporations are still legal and will operate as normal.
Private Company – under the new Companies Act, private companies have become the new standard for business. Changes to the law have made their operation easier and cheaper though.
Personal Liability Company – these are mostly used by professional partnerships i.e. lawyers, Accountants, etc.
Registering any of the above entities, except the Sole Proprietor, will require you to interact with the Companies and Intellectual Property Commission (CIPC). They are the record keepers and like most officious bodies, they tend to make life a little more difficult than it needs be. While the private individual is more than welcome to visit CIPC and process their own registration, our experience however has shown that they prefer to make use of a third party to do this for them. Registration with CIPC can take anywhere between two and ten working days, so make sure you have made allowance for this in your planning.
A word of caution! Should your business have more than one shareholder, we would recommend you talk to a professional to assist you with technical issues like your shareholders agreement, memorandum of incorporation and secretarial duties.
The different entities listed above each have their own peculiarities and risk profiles, the entity you choose however is entirely up to you and the amount of risk you wish to bear. We'll cover these peculiarities and risks along the way, so don't start stressing about them now.
So! there we have it, you have chosen the type of entity you wish to trade as, and it is all registered. The next step is to open a bank account, good luck!
In our next Blog we will look at Statutory registrations……..
Our Services:
At SME.TAX we do more than just assist clients with their provisional taxes.
We are your "one stop SME shop", assisting with everything from Accounting, Business Management, BEE, Consulting, Company Registration to Payroll and Mentoring.
For more information, please visit our website www.sme.tax or give us a call on 087 238 4357