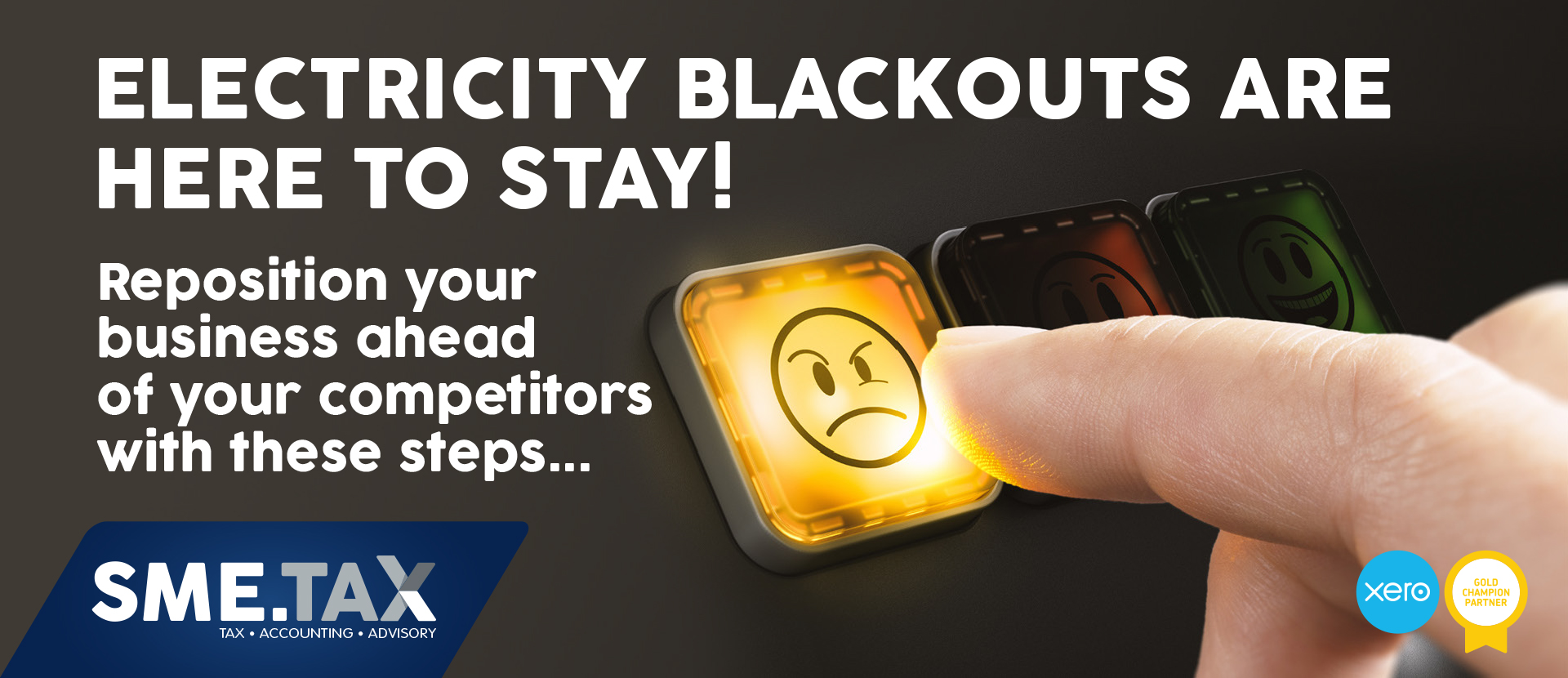 ELECTRICITY BLACKOUTS ARE HERE TO STAY!
Reposition your business ahead of your competitors with these steps…
If running a small business in South Africa wasn't already hard enough, the government has now added water shortages to the already painful electricity blackouts and increased the bloated red tape environment with a more stringent Employment Equity Act.
Realists have accepted the unwelcome news that "load shedding" and water interruptions are set to be with us for several years to come, therefore it is essential that entrepreneurs have a long-term plan in place to deal with their effects on your business. Ignoring the problem is not an option therefore use the opportunity to reengineer your business and reposition it ahead of your competitors.
The good news is, there are many simple and cost-effective steps or processes that you can put in place that will benefit your business. While not all of these listed below might be applicable to your business, combining one or more of these solutions with the deductions allowed under the recently amended s12B(h) of the Income Tax Act, they will certainly steer you in the right direction:
Generators and inverters

are an option (See our Solar Blog) if you have the resources. If not chat with your neighbours, maybe you can pool your funds and purchase one to share?
If your business is not office-bound, you can simply pack up and work from another location. There are many

flexi office spaces

popping up, which could be ideal.
You can replace office servers with

cloud-based offerings

, thereby needing a smaller UPS to keep the network up or switching to a wireless network.
You can begin

replacing desktop machines with laptops

thereby using battery power when the lights go out. This could be part of a long-term equipment replacement strategy?
You can let staff

work from home or other remote locations

, the added benefit here is you might be able to downgrade to smaller offices.
You could change your office hours to work around the power blackouts. Moving start times, lunch times, etc. Chat to an HR specialist as there might be labour regulation ramifications that will need to be considered.
You could begin

moving your building "off-grid"

by slowly making minor changes that will ultimately produce massive savings within a few short years. There are many consultants that can prepare a plan that you could follow as your budget allows. This coupled with the new "Tax Breaks" on solar, is becoming a viable option for many.
The small businesses that are going to thrive are those who are going to embrace this problem and work towards finding a solution that works for them and their customers. The businesses that are going to struggle are those who try to ignore the problem and hope that government fixes it.
Our Services:
At SME.TAX we do more than just encourage entrepreneurs to be innovative.
We are your "one stop SME shop", assisting with everything from Accounting, Business Management, BEE, Consulting, Company Registration to Payroll and Mentoring.
For more information, please visit our website www.sme.tax or give us a call on 012 021 0829