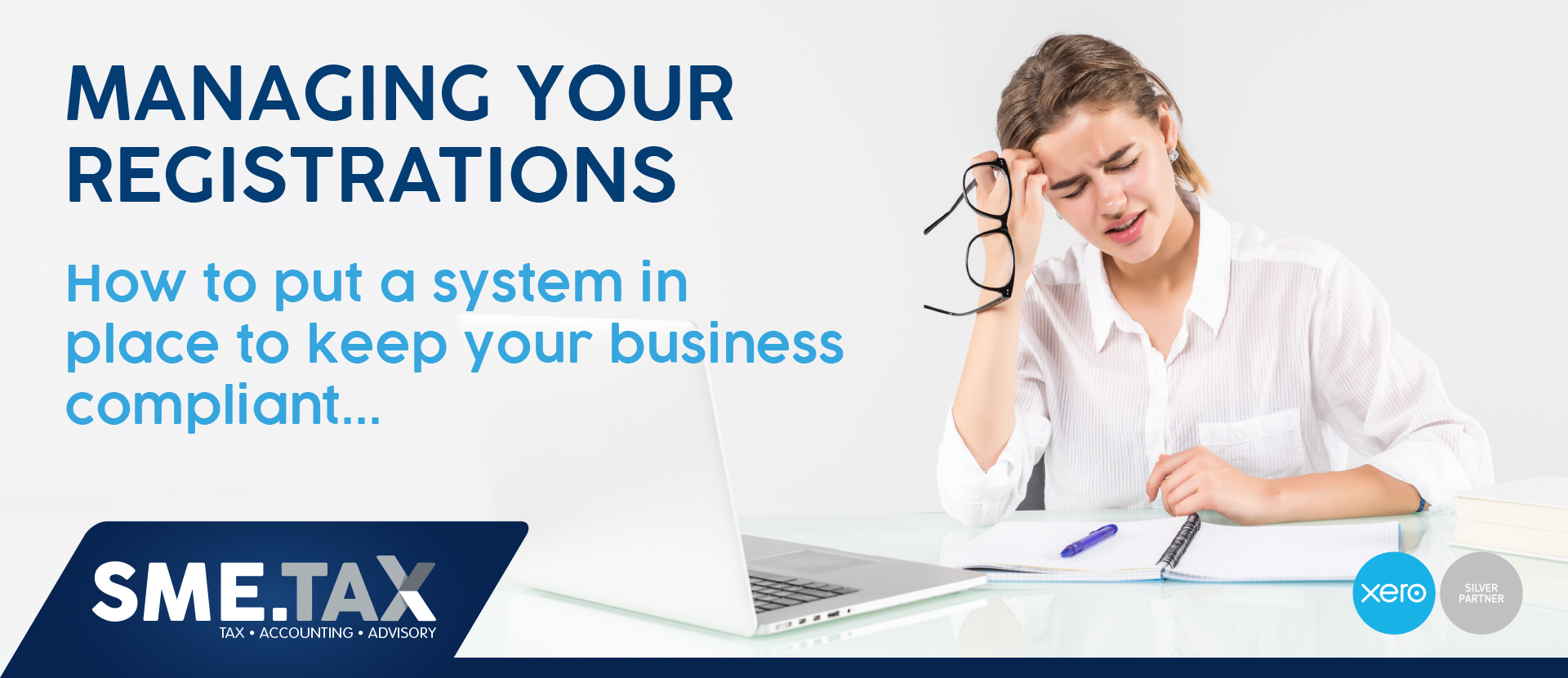 MANAGING YOUR REGISTRATIONS
How to put a system in place to keep your business compliant
Congratulations!
You have by now successfully navigated the regulatory minefield and are either registered and compliant or more likely still awaiting registration in order to become compliant.
Now that all the Government requirements are out of the way your attention is probably focusing on:
HOW DO I PUT A SYSTEM IN PLACE TO MANAGE ALL THESE REGISTRATIONS TO KEEP MY BUSINESS COMPLIANT?
Well, there's no need to panic, it's a lot simpler that you think. Essentially there are only three things that every entrepreneur ought to know i.e. Who owes me money? To whom do I owe money? and How much money do I have in the bank?
So, you're thinking: "Wow that sounds really simple, what do I need to do in order to get to grips with those three things?" Well let's run through the three statements as see what's required?
WHO OWES ME MONEY?
During the course of each month, you will be issuing your clients invoices for the products your business sells or the services your business renders. A simple calculation of the amounts invoiced against the amounts already received will let you know what is still outstanding.
In accounting terms these clients are referred to as Debtors
TO WHOM DO I OWE MONEY?
As above, besides the monthly rent and salary costs, etc., during the course of each month your business will be invoiced for the services and products it consumes. Again, a simple calculation of the invoices received less those already paid will let you know what you still owe.
In accounting terms these suppliers are referred to as Creditors
HOW MUCH MONEY DO I HAVE IN THE BANK?
Well, this is the simplest of the lot – just log in to your account each day and check your daily balance.
Once you have your finger on the pulse of these three items, you have the ability to calculate your businesses cash flow requirements. Understanding your business cash flow requirements is the key to business survival. Once you understand your cash flow requirements you can then confidently claim to understand your business.
CASH FLOW – WHY DO I NEED TO UNDERSTAND IT?
Over the course of a few months, you will soon discover that not all your debtors are as honourable as you initially thought and very soon you might have several clients owing your business money. Keeping track of who owes you money and for how long it has been outstanding is very important. In accounting terms this is referred to as a debtor's age analysis.
Now, your client's inability to settle their invoices (whether intentional or not), will soon put you in a position where you are unable to pay your creditors when their invoices become due. Keeping track of who you owe money to and for how long it has been outstanding is very important. In accounting terms this is referred to as a creditor's age analysis.
So, as you can see, knowing who owes you money (and when its due) allows you to pay who you owe money (when its due) from the money you have in the bank. This in a nutshell is the essence of cash flow.
Now you're probably wondering how does knowing these three things allow me to put a system in place to manage all these registrations to keep my business compliant.
Well, all you need to do from here is provide this information to your accountant every month and they will have all the information they need to ensure your business complies with all the necessary regulations.
Next month we will demystify your business Income Statement and Balance Sheet and NO! you don't need to be an accountant to understand it. 🙂
Our Services:
At SME.TAX we do more than just assist clients with their provisional taxes.
We are your "one stop SME shop", assisting with everything from Accounting, Business Management, BEE, Consulting, Company Registration to Payroll and Mentoring.
For more information, please visit our website www.sme.tax or give us a call on 072 207 4789