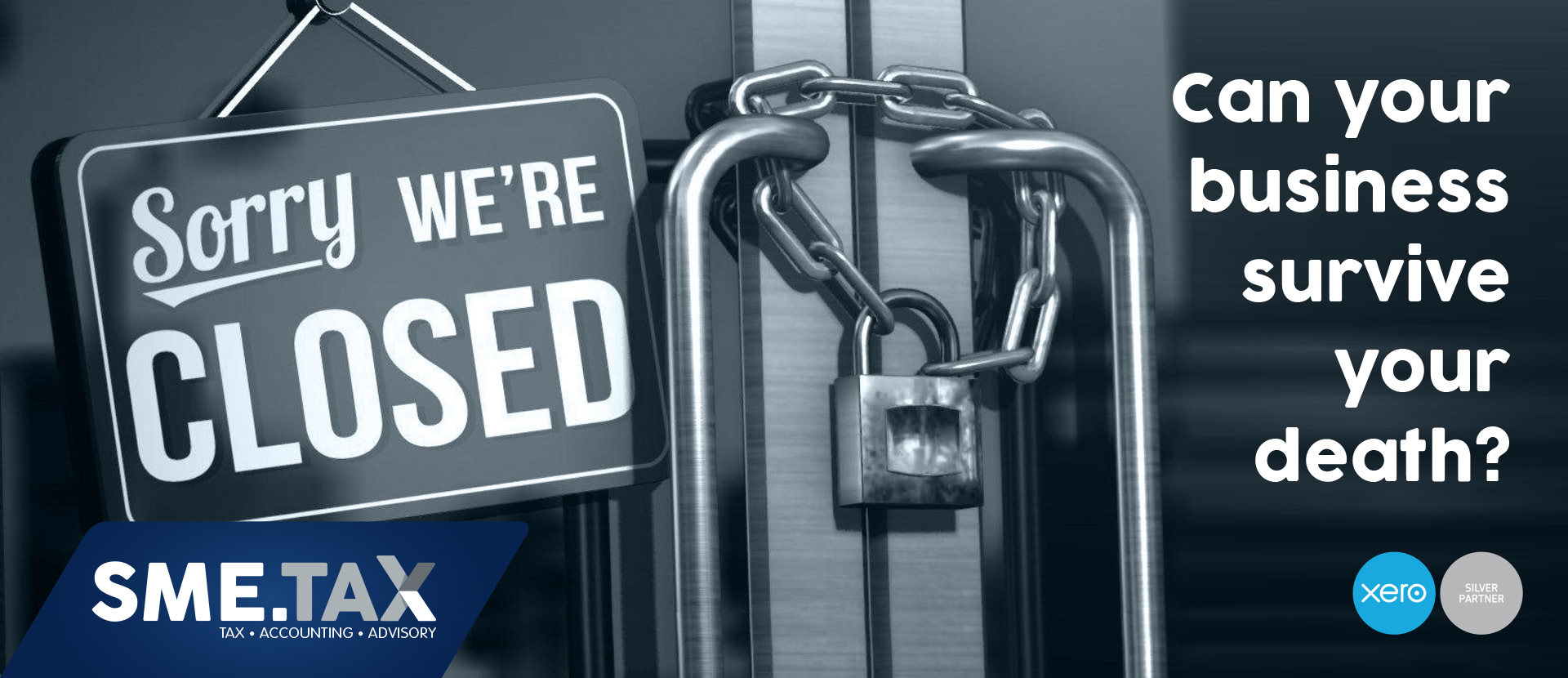 Can your Business survive your Death?
Too many businesses die with their founders! When the truth is, they need not.
So, there you are, the centre of your business universe. Nothing happens without your say so! You're so in control, it has never even crossed your mind that everything might just fall apart after you're gone.

"Can my business survive my death?"
– It's a strange thought that hey? Well, the fact is, too many businesses die with their founders! When the truth is, they need not.

So, what are you doing to ensure that your business can survive your death and keep delivering for all those people who depend on it for their livelihoods?
Here are a few tips that may help your business survive your demise:
Business Size – This is an important factor as businesses that are solely dependent on the owner have less chance of surviving than those who have several staff and professional managers. Therefore, the bigger your business the better chance it has of survival.
Succession Plan – Does your business have one? You might want to begin handing over many of the day-to-day functions to key staff in anticipation of letting go? If you're a one-man band, you can begin informal discussions with another professional to purchase your client base after you have passed on. Regardless of the route you choose, it is important to document your plan, so the transition is as painless as possible.
Family – Will your family be taking over the business or will the plan call for the sale of your shares? This is an important aspect to consider and will depend on each person's individual circumstances.
Funding – This is probably the most important factor to take into account and will change several times as each of the factors mentioned above are debated. What is important though, is to ensure that your family and your business have sufficient funding to survive.
As it generally always comes down to money (how much of it and when it's available), I'll focus on this point a little longer. Fortunately, there are insurance products available in the marketplace that can take a lot of pain out of the planning.
Outright Sale – In your succession planning, you might have concluded a sale agreement with a friendly competitor that comes into effect on your death. Here it would be quite simple, they would pay your estate for the purchase of the business.
Key Man Insurance – If you have competent management and your family or business partner plans to keep the business running, it would be advisable to consider key man insurance. It's an insurance product that pays out money to the company to enable it to purchase replacement skills (i.e. yours). This additional cash injection should tide the company over until the new employee is able to "fill your shoes".
Buy and Sell Agreement – this is a common insurance product used in a business with more than one shareholder. It is often used in conjunction with key man insurance but need not be. The real focus of this product is to enable the surviving shareholders to purchase your shares, thereby putting money in the hands of your family and essentially preventing their future participation in the business.
So, as you can see, there is a lot to consider, when planning for your unplanned exit 🙂
Our Services:
At SME.TAX we do more than just assist clients with their provisional taxes.
We are your "one stop SME shop", assisting with everything from Accounting, Business Management, BEE, Consulting, Company Registration to Payroll and Mentoring.
For more information, please visit our website www.sme.tax or give us a call on 087 238 4357