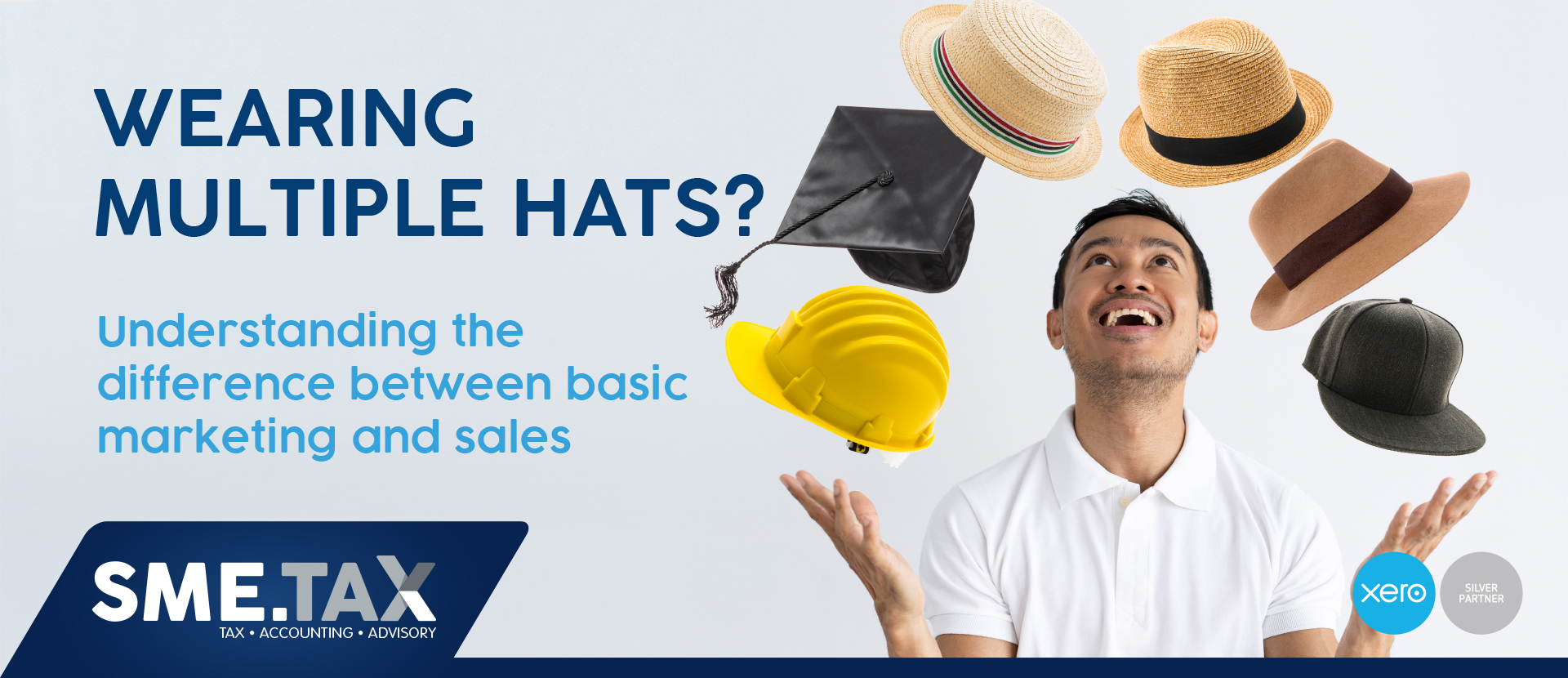 WEARING MULTIPLE HATS?
Understanding the difference between basic marketing and sales
As any entrepreneur has learnt, a business owner has to wear many different hats (often to many different occasions). So, although you are steadily building your restaurant, retail store, plumbing business or accountancy practice you have discovered that to get the invoices rolling you need to have some basic marketing and sales skills. It is likely that you are fulfilling the roles of both 'marketing manager' and 'head of sales' so it is important to know the difference between the two to ensure that potential customers become existing customers.
So, what exactly is the difference between marketing and sales and how can you use them to your advantage?
Marketing – Marketing is business activity designed to create product and brand awareness with both existing and potential customers. In broad terms, marketing is letting your customers know who your company is (brand recognition) and what your company can do to help them. The focus of marketing is PR, market research, direct mail, social media and advertising. For example, marketing is your restaurant branding, social media and advertisements in the local paper.
Sales – Sales is a marketing function which generates revenue (turnover) through direct engagement with potential and existing customers. Sales is a personalized communication that influences purchase decisions and enhances future business opportunities. Because sales is a personalized service is goes beyond mere order-taking and customer services. Sales consists of networking, meetings, telephone calls and any medium that allows you to directly connect to your customer. For example, sales is your restaurant seating hostess, waiter and manager.
In other words, the objective of marketing is to drive sales- marketing is everything that you do to reach and persuade prospective customers and the sales process is everything that you do to close the sale. Now that we know what each of these elements are, how do we use this information to benefit our business?
MARKETING
Spend ample time developing a marketing message that is clear, direct and thoughtful.
Your marketing message must be the 'umbrella' that establishes your brand and promotes your products.
Educate consumers on why they should choose your business or products over a competitors – customers purchase a solution to their problem, not a product, so how can your business fulfil a need?
Do your market research and ensure that you are targeting the right audience- not everyone is a potential customer.
Be consistent in your messages- create a unified message across all mediums.
Get to the point- grab your customers attention in the first 10 seconds!
Ensure that your customer always understands how your product will make their life more convenient/ affordable/ organized.
View your business objectively- ask outsiders for their opinion of your marketing strategy.
Most importantly, keep your business up to date- ensure your website, Facebook page, Twitter profile are constantly updated. We live in an age of technology, which means that your customer has most likely judged your business proficiency before they have even walked in the door.
SALES
Interact with your existing and potential customers as often as you can. The more a customer hears about your product, the more likely they are to try it.
Follow up, follow up, follow up- keep a database of all potential customers who have contacted you and keep them updated on any special offers or promotions you are running.
Create an open two-way conversation with your customer that allows you to identify their need and match it with the product you are selling.
Always ensure that your message answers the question "how can my product fulfil my clients need?" No matter how brilliant your product is if your customer cannot understand its value, they will not be incentivized to purchase it.
The fewer steps a customer has to go through to find what they are looking for increases the likelihood of them using your product. Your customer should know who to contact and how to contact them.
Ask for referrals- there is no easier sale than word of mouth, so don't be shy! As soon as you have completed a job ask for email addresses or phone numbers of anyone they can think of that might be interested in your services.
It takes, on average, approximately eight contacts or more with a single prospective customer before the sale is closed. Understanding the difference between sales and marketing will help increase your chances of business success by creating a balance between the two.
Our Services:
At SME.TAX we do more than just assist clients with their provisional taxes.
We are your "one stop SME shop", assisting with everything from Accounting, Business Management, BEE, Consulting, Company Registration to Payroll and Mentoring.
For more information, please visit our website www.sme.tax or give us a call on 072 207 4789