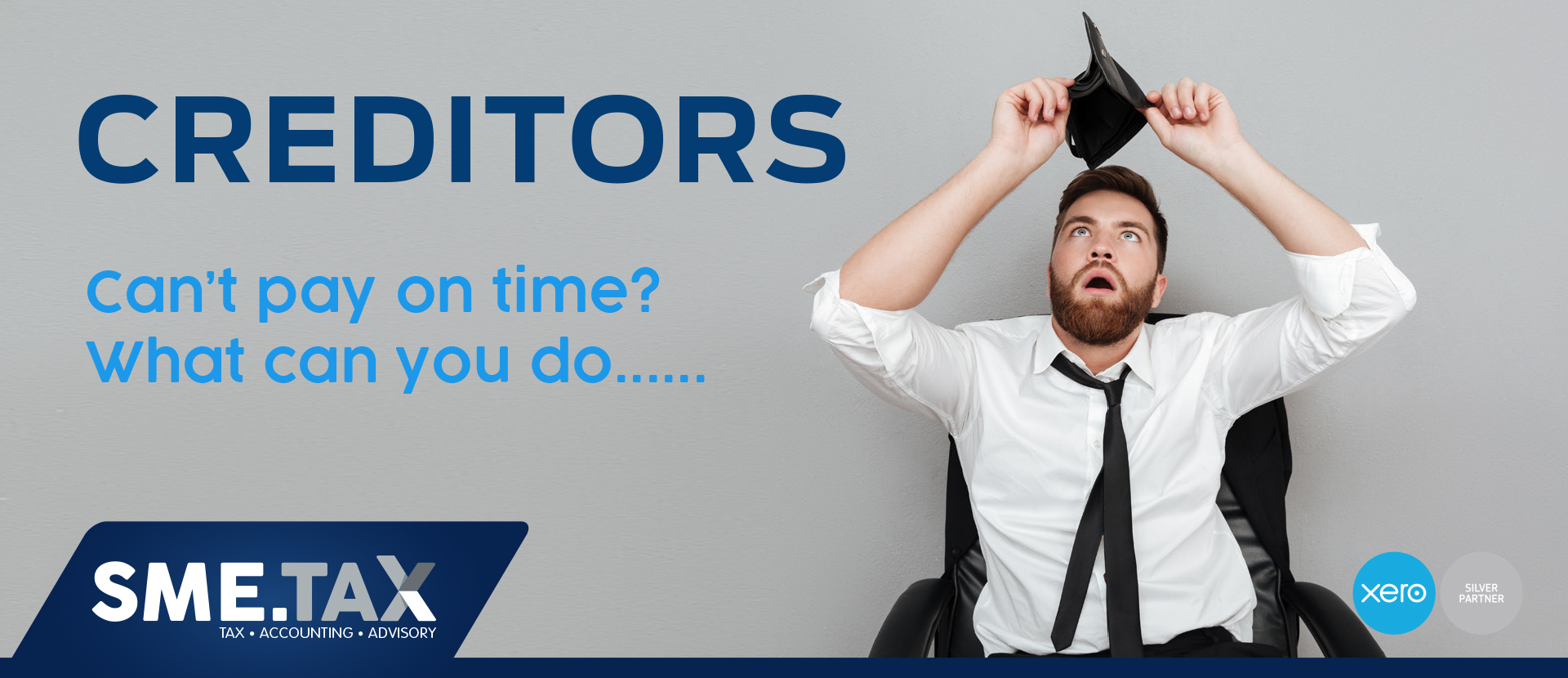 CREDITORS
What can you do when you can't pay on time?
As we approach the end of the year many entrepreneurs begin to face the reality that they may not  be able to pay their bills.
Not being able to pay your accounts on time is probably the most stressful situation an entrepreneur could ever experience. What most entrepreneurs don't realise is, it is in fact, a very common occurrence effecting all entrepreneurs at some point in their business lives.
So, there you have it, it is not only you, it happens to everybody!!
The important thing to remember is, if you find yourself in this situation it can be managed through effective communication and a clear commitment to payment deadlines.
While no creditor is too excited about not being paid on time, they will be more agreeable and withhold the lawyer's letters if you follow the very simple guidelines below.
Have an honest look at your cash flow and calculate the absolute minimum amount of money you are guaranteed to receive each month.
With this amount in mind look at your creditors and prepare a schedule clearly indicating how much you owe and over what period you can settle the debt.
Communicate the repayment terms to all your creditors. Yes, some of them will not be happy and still threaten you with legal action, but don't worry, stick to your guns.
Honour the amounts and dates as per your payment schedule! If you ever find yourself in a position that you cannot meet these terms let your creditors know.
There you have it, four very simple steps to get yourself out of your financial predicament!
It is important to remember that the majority of creditors would prefer to avoid the use of litigation as it is costly and very often does not yield the results they expect, leaving them with an unpaid debt and a hefty lawyers bill.
Therefore, by being proactive and communicating with your creditors you will buy time to restructure your debt and by honouring your commitments you will build credibility with them.
Also don't forget, your creditors have bills to pay too and will be relying on your monthly repayments to ensure that they too do not get into financial trouble.
Our Services:
At SME.TAX we do more than just assist clients with their provisional taxes.
We are your "one stop SME shop", assisting with everything from Accounting, Business Management, BEE, Consulting, Company Registration to Payroll and Mentoring.
For more information, please visit our website www.sme.tax or give us a call on 072 207 4789