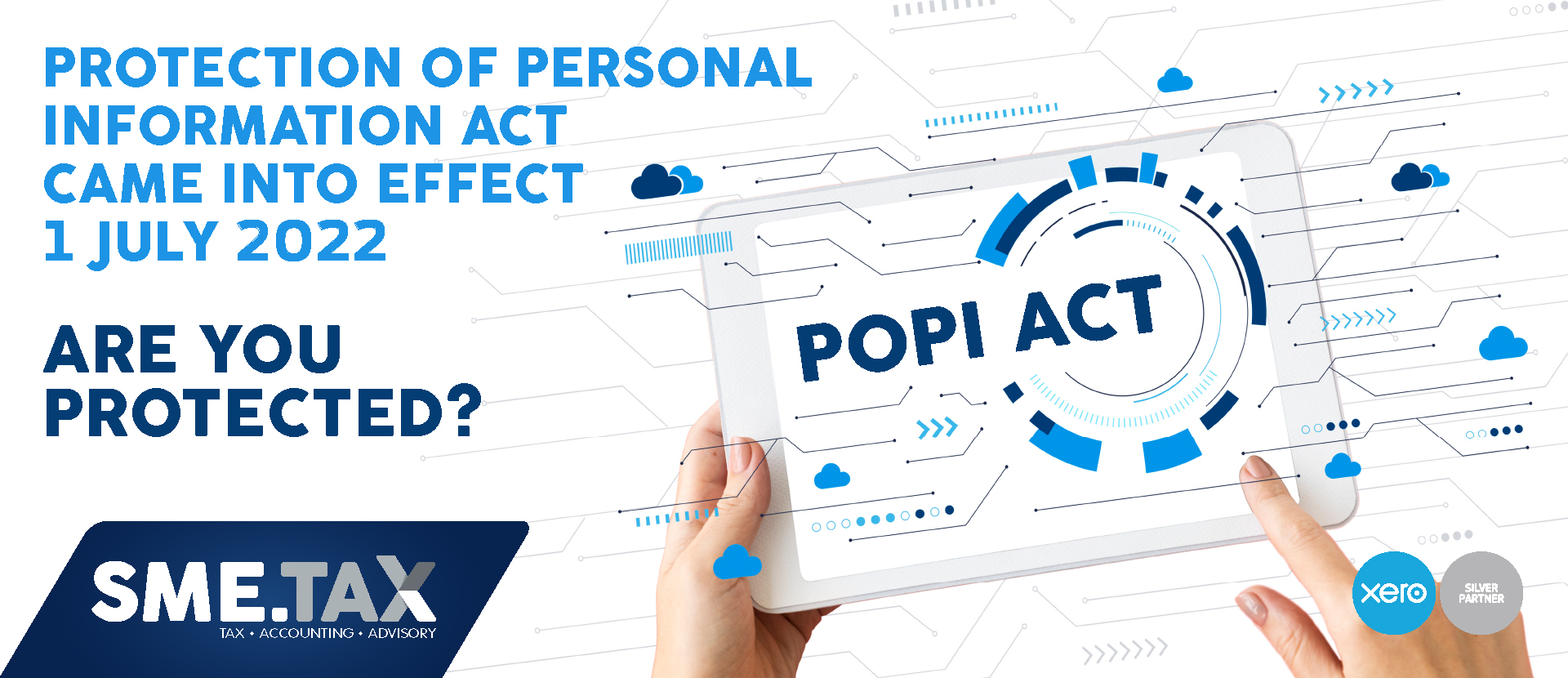 THE PROTECTION OF PERSONAL INFORMATION ACT CAME INTO EFFECT ON 1 JULY 2021.
ARE YOU PROTECTED?
The Protection of Personal Information Act comes into effect on 1 July 2021.  The POPI Act requires ALL organisations that process personal information to comply with the lawful conditions. The POPI Act does not apply to purely personal or household activities, but applies to all organisations outside of this, irrespective of annual turnover or number of employees employed. SME.TAX in partnership with Global Business Solutions, has assisted 100's of businesses and has now developed a fit-for-purpose SME POPI toolkit supported by an instructional video.
What this includes:
YouTube link with instructional video, step by step
YouTube 45-minute training video on POPI
Instructions on appointing and registering an Information Officer
A generic Privacy policy for website or general commercial use
A guide on what to do in the event of a data breach
A SME Promotion of Access to Information Act (PAIA) template
Direct e-marketing consent form
A risk assessment template for identifying weaknesses in key business areas
An operator agreement
Reciprocal POPI contractual clause
Employee contract clauses addressing POPI
ALL THIS FOR ONLY R3000.00

Order your toolkit today. (Price excludes Vat)
Contact: Ken Brown, Email: ken@sme.tax, Mobile: 072 207 4789


Lastly, we'd like to assure you that we only collect and retain information received from you that is necessary to provide you with the service purchased and to comply with applicable laws. We will  not share your personal information other than for the purpose of providing you with a service or as required by law.
We may send you newsletters and promotional offers from time to time, should you not wish to receive these communications you can use the Unsubscribe button at the bottom of these emails to be removed from the mailing list.
Our Services:
At SME.TAX we do more than just assist clients with their provisional taxes.
We are your "one stop SME shop", assisting with everything from Accounting, Business Management, BEE, Consulting, Company Registration to Payroll and Mentoring.
For more information, please visit our website www.sme.tax or give us a call on 072 207 4789